The novel COVID-19 pandemic has put a stop to many parts of our daily lives. However, moves aren't always something that can wait, even during a pandemic. Whether you're relocating due to financial reasons or wish to move back home to wait out the storm, you can rest assured that it is still possible to move safely during this time. With some adjustments and adequate pre-planning, your long-distance move does not have to be any more stressful than usual.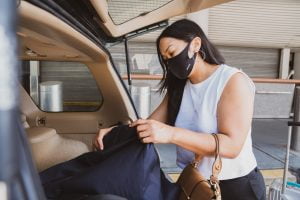 Here are our top five tips to consider when moving long distances during a pandemic.
Allow Ample Time For The Logistics
You may find that there are delays to almost every other aspect of your move due to shifted business hours or reduced staffing during the pandemic. Make sure to allow yourself ample time to handle logistics tasks such as changing addresses, updating your license and setting up utilities before moving so that they do not cause more stress on your to-do list.
Check Travel Restrictions
Most cities and states have implemented travel restrictions and mandatory quarantine policies to slow down the spread of COVID-19. These policies vary, so make sure to check with your destination's health department to know what is expected of you.
All travel choices include some risk of infection, so you will likely base your decision on the distance and the cost. We recommend you take your personal and family health history and any underlying conditions that you and your travel party may have into consideration when planning your travel method. You may want to consider postponing your move or make alternative travel arrangements to keep yourself and your family safe.
Keep Your Space Clean
We recommend that you take the time to disinfect your new home before unpacking. Pay additional attention to high-touch surfaces such as doorknobs, countertops, and cabinet handles that may have been touched by movers, builders, visitors and realtors. You may also clean items as you unpack, for example, running clothes in the dryer or washing your dishes before putting them in cabinets. These extra precautions, while maybe time-consuming, will further protect yourself and your family.
Protect Yourself From Contamination
Taking extra steps while packing for your long-distance move can help keep your items clean and mitigate the risk of contamination. For example, you can limit the number of people handling boxes and disinfect them before use.
Hire A Professional Moving Company
Transporting your belongings across the country can be a daunting task. That's why most people choose to hire a professional moving company to help make long-distance moving as painless and easy as possible. However, when relocating during a pandemic, you may put yourself at greater risk when working with others. Make sure to ask the prospective moving company about their COVID-19 action plan, safety protocols and use of personal protective equipment so you can have peace of mind.
Are you preparing for a long-distance move to or from Edmonton? Time Movers is here to help. From start to finish, our professionals at Time Movers are dedicated to keeping you and your belongings safe. Experience stress-free moving with Time Movers today!